Importance of Active Directory (AD). Active Directory is a directory service developed by Microsoft for use in Windows-based networks. It plays a crucial role in managing and organizing network resources in a centralized and secure manner. Here are some of the key importance and benefits of Active Directory: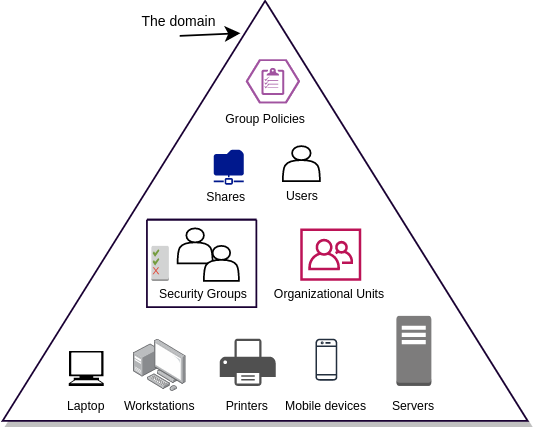 1. Centralized User Management
Active Directory allows organizations to centralize user and computer account management. This means administrators can create, modify, and delete user accounts, groups, and computer accounts from a single location, making user management more efficient and consistent.
2. Single Sign-On (SSO)
AD enables Single Sign-On, which allows users to log in once using their credentials and gain access to multiple resources across the network without needing to re-enter their username and password.
3. Security
Active Directory provides robust security features, including authentication, authorization, and access control. It allows administrators to assign and manage permissions for users and groups, ensuring that only authorized individuals can access specific resources. It is important to have IT System security for an organization to run the business hassle-free.
3. Resource Organization
AD enables the organization of network resources such as computers, printers, and shared folders into a hierarchical structure, making it easier to locate and manage these resources.
4. Scalability
Active Directory is designed to scale as an organization grows. It can handle a large number of users, computers, and resources while maintaining performance and reliability.
5. Group Policy
Group Policy Objects (GPOs) in AD enable administrators to apply and enforce specific configurations and security policies across the network. This ensures consistency and compliance with organizational standards.
6. DNS Integration
AD integrates with the Domain Name System (DNS), making it possible to use familiar domain names to access network resources rather than relying solely on IP addresses.
7. Redundancy and Fault Tolerance
Active Directory can be configured for redundancy and fault tolerance through features like domain controllers. This ensures high availability and data recovery in case of hardware failures.
8. Secure Authentication
AD supports secure authentication protocols like Kerberos, which helps protect against unauthorized access and security threats.
9. Compliance and Auditing
AD provides tools for auditing and tracking changes made to the directory, which is essential for compliance with regulatory requirements and security policies.
10. Integration with Microsoft Products
Active Directory seamlessly integrates with various Microsoft products and services, such as Microsoft Exchange, SharePoint, and Microsoft 365, enhancing the overall productivity and collaboration within the organization.
11. User Self-Service
AD can be configured to allow users to reset their passwords, update their contact information, and perform other tasks without needing administrator assistance, reducing the burden on IT support.
12. Business Continuity
AD supports disaster recovery planning by allowing organizations to back up and restore directory data, ensuring business continuity in case of data loss.
In summary, Active Directory is a critical component in modern network infrastructure, providing centralized management, security, and scalability. It simplifies network administration, enhances security, and improves user productivity, making it an essential tool for organizations of all sizes. FSI is one of the leading Networking Solution and Server solution in Dubai and other region of UAE.
FSI provide IT AMC service in Dubai for an affordable cost to our customers.