IT AMC services in Dubai is much needed in the dynamic landscape of business technology, ensuring the smooth functioning of your IT infrastructure is crucial for sustained success. For enterprises in Dubai seeking comprehensive and reliable IT support, an IT Annual Maintenance Contract (AMC) proves to be an invaluable solution. In this blog post, we'll delve into the key aspects of IT AMC services in Dubai and how they can revolutionize your business operations.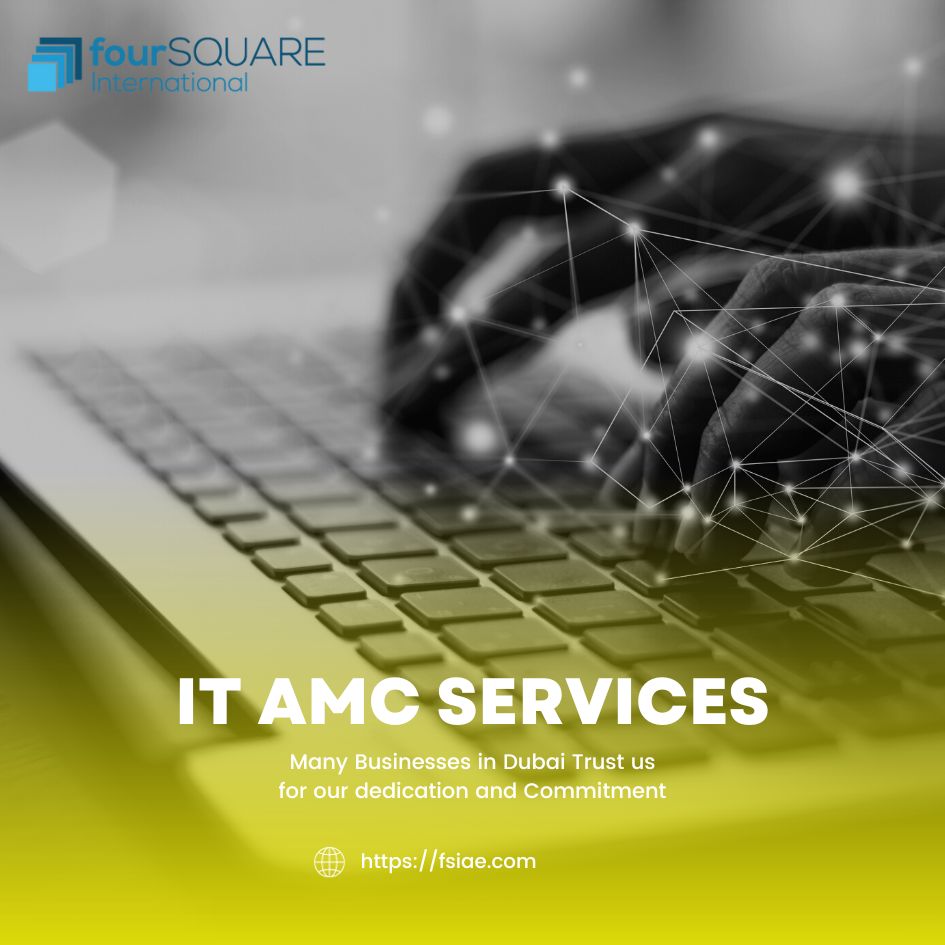 Why IT AMC Services in Dubai?
Dubai's thriving business ecosystem demands a robust IT infrastructure to stay competitive. An IT AMC in Dubai offers a proactive approach to managing your IT assets, minimizing downtime, and maximizing productivity. Let's explore the benefits:
Proactive Maintenance:
IT AMC services ensure that your systems are regularly maintained and updated, preventing potential issues before they disrupt your operations. This proactive approach minimizes downtime and keeps your business running smoothly.
Cost-Efficiency:
Opting for an IT AMC in Dubai is a cost-effective strategy compared to ad-hoc IT support in Dubai. With a fixed annual cost, you can budget effectively and avoid unexpected expenses arising from IT emergencies.
24/7 Technical Support:
IT AMC providers in Dubai often offer round-the-clock technical support. This means that regardless of the time of day, your business can receive immediate assistance, ensuring that critical issues are resolved promptly.
Customized Solutions:
Every business has unique IT requirements. IT AMC services in Dubai can be tailored to meet the specific needs of your organization, whether it's cloud management, network security, or software updates. This flexibility ensures that you get the most out of your IT investment.
Enhanced Security:
Dubai's business landscape is not without its cybersecurity challenges. IT AMC services include robust security measures, safeguarding your sensitive data and protecting your business from cyber threats.
Regular IT Audits:
IT AMC providers conduct regular audits of your IT infrastructure, identifying areas for improvement and ensuring that your systems align with industry best practices and compliance standards.
How to choose the Right IT AMC Provider in Dubai?
Selecting the right IT AMC provider is crucial for the success of your business. Consider the following factors:
Reputation and Experience:
Look for providers with a proven track record and extensive experience in delivering IT AMC services in Dubai.
Service Level Agreements (SLAs):
Ensure that the service level agreements offered by the IT Support provider in Dubai align with your business requirements. This includes response times, resolution times, and the scope of services covered.
Scalability:
Your business is likely to grow, and your IT infrastructure needs to scale accordingly. Choose an IT AMC provider that can accommodate your business's future expansion.
Client Testimonials:
Read reviews and testimonials from other businesses that have utilized the services from companies who provide IT AMC services in Dubai. This can provide valuable insights into the provider's reliability and customer satisfaction.
Regular Performance Reports: Stay informed about the health and performance of your IT systems with regular reports. Our detailed insights enable you to make strategic decisions to improve overall efficiency.
Expert Consultation and Guidance: Our team of IT professionals in Dubai is not just here to resolve issues; we also provide expert consultation to help you make informed decisions about your IT infrastructure, ensuring it aligns with your business goals.
Cost-Effective Solutions: Save on IT expenses with our cost-effective packages for IT AMC services in Dubai. Our transparent pricing ensures that you get the best value for your investment, without any hidden costs
In the fast-paced business environment of Dubai, having a robust IT infrastructure is non-negotiable. Investing in IT AMC services in Dubai not only ensures the seamless functioning of your systems but also empowers your business to stay ahead in the competitive landscape. Choose a reputable IT AMC provider in Dubai, and unlock the full potential of your IT assets.